How to activate your voucher?
---
Click "Post a Job" on the main page and enter job details
Select "I have a voucher code" on the second step of the "Post a Job" form and enter the voucher code
Your voucher code will be activated and you can see your active vouchers on the "Dashboard - Vouchers" menu
How to redeem your voucher?
---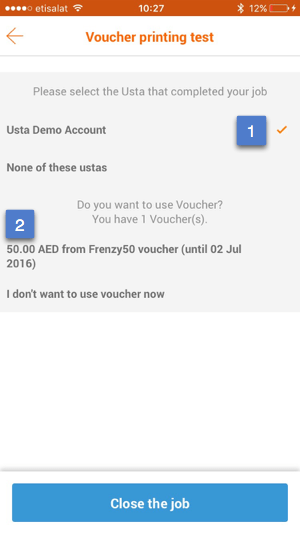 After you received the service from the service provider click on "Close Job" on the job
Select the Usta that provided you the service
Select the voucher that you would like to use for this job and close the job
Inform Usta that you used your voucher for this job
Subtract the voucher amount from the total cost of the job and pay usta directly the remaining amount.
For Ustas
---
After delivering the service if a customer wants to use a voucher
Ask customer to close the job and select your company as the usta which completed the job
Ask the customer to select the voucher that he/she wants to redeem from vouchers list
The amount of voucher + 10% extra credit will be recharged to your account or the amount of voucher will be paid to you as cash on the same day as per your preference.